MacEnthusiasts Addresses Covid-19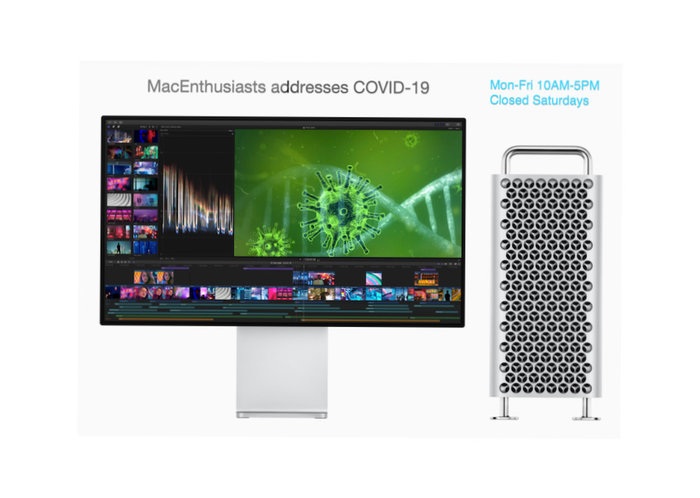 Dear valued customer,
First and foremost, we want to assure you that our ability to service your needs will continue. We know this is a challenging time for many and our priority is to ensure that our customers are taken care of, as we all maneuver through this together.
We want to share with you how we're doing our part to help support your needs, while adhering to the current Los Angeles County Safer at Home regulations. This trying time requires that all non-essential businesses work remotely from home.  As our business is fundamental to those who use computers for work, we have been identified as an essential business and thus available to help you.
RENTALS:
Our company has a few thousand Macs in rental inventory to choose from so that you can work from home with any Mac that suits your fancy. For 1 person or 100's
MAC REPAIRS AND UPGRADES
We continue to offer Macintosh repairs and upgrades
HARD DRIVES
We have a huge selection of hard drives in stock to bring data back and forth and to backup data
COVID-19 Procedures and hours
To minimize contact and maximize social distancing, we are instituting the following procedures:
Contact free drop-off and pick up at our rear parking entrance. Please call our main number 310-287-2777 when you arrive or ring the bell. Alternatively, we can pickup/drop-off computers from your car.
For your convenience, pickup and delivery service is also available for a nominal fee.
NEW HOURS
Our hours will now be:
Mon-Fri 10AM-5PM
Closed Saturdays
We would also like you to know that we are taking every measure as prescribed under the CDC guidelines, to ensure that our facility & equipment is sanitized and our staff protected. We are staying up-to-date with the WHO, CDC and government officials and strictly following all recommendations. We will continue to monitor all updates and may adapt as necessary, within the parameters. We appreciate your patience, loyalty and understanding as we do our part to provide you with the best service possible.
Thank you for your patronage and we will continue to be at your service to provide you with the essentials to stay connected, when you need it most. We sincerely wish you and your loved ones health and safety.
Be the first to comment...