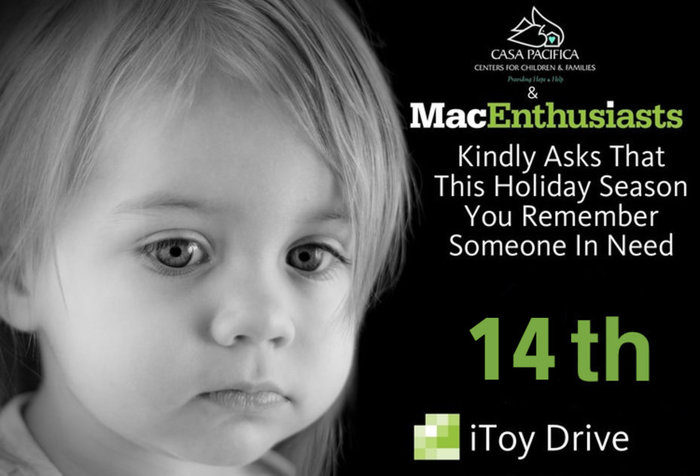 Dear Customers and Friends,
It is November, so it is time for our 14th annual MacEnthusiasts iToy Drive! This benefits the children of Casa Pacifica, a non-profit organization that provides family and mental health support and shelter to abused, neglected or at-risk children and their families.  This drive is unique because we are giving the child something that they actually want, not a random item. Casa supported one of our own in their time of need, and so this is how we are paying it forward. We are sponsoring 150 children this year, so we would really appreciate your support. Due to Covid-19, we are doing direct ship to Casa Pacifica only instead of having a local purchase option. Also, we request purchases to be made early, as we want to ensure that the kids get their holiday presents on time (and items don't go on backorder.) Please read the following instructions carefully.
Amazon Wish List: 
You can click on our Amazon Wishlist, which will direct you to our Amazon Wish List or click below
Select the gift
After you add the item to the cart, there will be a box under the item description. Please check the box "this is be a gift"
Proceed to checkout, sign in (and create an account if necessary)
Select Morgan Piehn/Casa Pacifica's gift registry address as the ship to address (gift ships directly to them)
Continue with checkout procedure
Presents are requested to arrive by December 15, 2021 so that Casa Pacifica volunteers have enough time to wrap the gifts.
If you have any problems or questions, please contact Paula at 310-287-2777 X104
The last day to have gifts delivered by is December 15, 2021.
All of us at MacEnthusiasts would like to thank you for your support for iToy Drive 14! You are contributing to a wonderful cause for children who have suffered and will allow them to have a fulfilling holiday and to bring some normalcy into their life. Thank you for remembering the less fortunate and have a wonderful holiday season!
Be the first to comment...